Understanding Change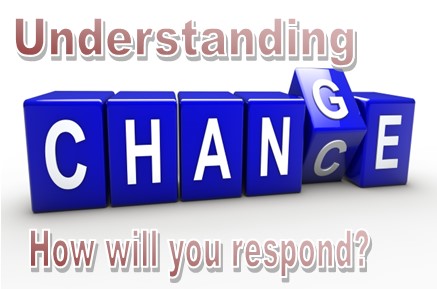 PLEASE READ THE ENTIRE DOCUMENT.
Hello, I am Dave Wess Sr., Adjunct Professor at Pre-College University.
Welcome to my class titled, "Understanding Change." I open with the question, "How will you respond?"
By now, you have had the opportunity to read and review the book, "Who Moved My Cheese", a New York Times business bestseller written by Dr. Spencer Johnson. Reading the book is as a prerequisite to this learning experience.
In this course you will experience a high-level recap of the book. One of the major objectives is for learners to add a few skills on how to better understand change and to respond to the question posed earlier, "How will you respond to change?"
I was introduced to the book, Who Moved My Cheese, years ago while working in corporate America. I was rapidly climbing up the corporate climb from front line worker to executive leadership levels in the organization. I and a group of other in executive leadership were all given a copy of the book and we were expected to read and review the book as a tool to prepare us for what would be the inevitable. You see, at that time, the CEO of the company where I worked thought it would be good for all executive leaders to understand how change impacted their functioning. As I look back, I realize how important it was for me to have this exposure and to gain an awareness of how I might respond to change.  This self-knowledge prepared me for many critical encounters to come. Encounters that for me were life shaping.    Because of this, I believe that everyone can benefit from understanding change and the embrace, or lack of embrace of change, is a big factor in whether you will succeed or fail.
For me understanding change and how to embrace it, allowed me to move from directing one operational office in a company that was in two states in the Midwest to ending operating multiple offices in over 16 states nationwide. And not only operations in the United States, I moved on to direct operations in India, Philippines, Guatemala and other countries. I had to understand how to respond to rapidly changing circumstances during all the growth. Many around me did not understand the need for change and did not embrace the changes. They did not fare so well. Likewise, if you do not understand and embrace change, there is a good chance that achieving success will be a struggle for you. In fact, in many situations you encounter, you might be better off finding a hole to climb into or better off moving on to a different job or better off moving on to a different relationship or you pick the scenario.
When I reflect and recall the transitional periods of growth in my career, I not only see how I embraced change, I also recall how others embraced change.  Let me share an example of how change can present itself.
Scenario: You get a good job. There are a few sets of operational procedures and processes everyone must follow.  You work is acceptable. Most people get along. You became extremely comfortable with life in general.  Then an announcement is shared corporate wide. A merger with another company will be happening soon.  Not too long after the merger, you will have to take on additional responsibilities, learn new processes and train new workers.  You will have to learn new skills.  You will often have to begin working with new people, travel to new locations. You may get a new boss, new customers, etc.   And as soon as you feel like you are understanding the new rules and requirements, another announcement is shared that the newly formed company is planning to merge with yet another company. How would you respond? Or you may have your own change experiences to reflect on. How did you respond?
Previous patterns of functioning may or may not be helpful. The bottom line is this.  In your career, you will be presented with challenging situations and be challenged to adapt to new procedures, new processes, learn new skills or interact with new people.  In life, change is coming.  It will happen.  How will you respond?
In this class you will be assigned to view a 16-minute video titled, "Who Moved My Cheese".  As you watch the video:
Take note of the characters, their characteristics and behaviors.
Note the way they respond before, during and after they experience change.
Identify the character that is most like you.
Be on the lookout for a few key quotes that stick out to you.
Jot dot down at least six quotes.
Reflect on what the phrases mean to you.
Understanding the four basic responses and characteristics to change and which type you are the most like will help you understand how to better embrace change for positive outcomes. The implications to understanding where you are and how to move closer to your cheese in this, "Who Moved My Cheese" experience is big. They have helped me in my career. It is my hope that the book and this course will help you in your career.
Course Features
Lectures

5

Quizzes

1

Duration

50 hours

Skill level

All levels

Language

English

Students

3

Assessments

Yes