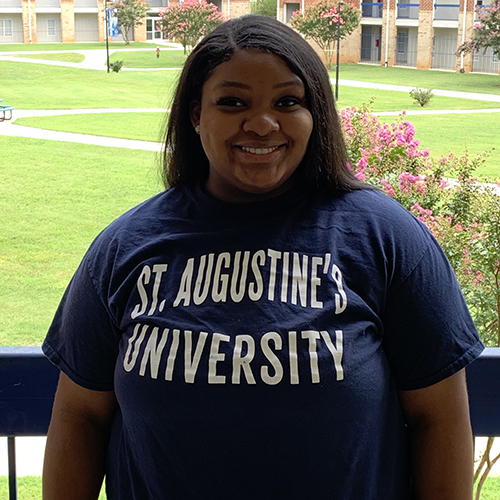 "Your presence will make a statement when you walk into a room, especially when you give 100 percent." – Trina Manor
When you give 100 percent you generally produce the best work. It shows how well your work ethic is, how well you carry yourself as a person, and how marketable you are for grand opportunities. "Always give 100 percent, sometimes more never less", my mother always spoke those words to me. Every time I embark on a new journey, I always ask myself, how can I leave a great impression? My goal is to give 100 percent and somehow, I am able to leave a lasting impression on the people I encounter. My mother was right.
I am L'Nazia Edwards, a Presidential Scholar and honors college student at St. Augustine's University in Raleigh, North Carolina. I am pursuing my dream of becoming an Obstetrician-Gynecologist and I will soon obtain my Biology degree in spring 2021. Being raised by a single mother has driven my passion for women's health along with growing up with five aunts and having all sisters. Growing up in an environment with women has shown me the importance of health care and having access to a health care professional that can relate to you and have your best interest at heart. History has shown that black women face fearful realities when it comes to childbirth and pregnancy, and I will soon be able use my knowledge and passion to help mothers in need. When I joined the MES internship program, I could not distinguish how becoming a physician correlated with The Department of Energy. I later realized that The Department of Energy has a broad category of research topics and being a physician ties into many subcategories.
I was placed at Argonne National Laboratory in Lamont, Illinois, and assigned to work on the RIPE team, also known as the Responsible Innovation of Bio- Friendly Plastics in the Environment. Our main task was to create a data source for plastics and their "after life". The data schema is going to be used to show plastic producers the life cycle of plastics and why they should produce more bio-friendly plastics. I took an interest in the plastic Polyvinyl Chloride also known as PVC and decided to research the health effects of PVC through different exposure routes such as skin absorption, inhalation, and ingestion. Research shows that ingestion is the primary way to come in contact with plastics and in fact, it can affect pregnant women and their babies. The MES program was my first internship and I am grateful to have had the experience. Mr. Brown is very hands-on and helps you every step of the way. Now, I feel confident and more equipped to participate in future internships and continue on my path to becoming a physician.