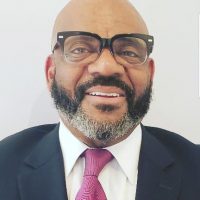 Gil Knowles
 Gilbert "Gil" Knowles, President and CEO, Knowles What To Do Mentoring Solutions, Haymarket, VA, personifies servant leadership. This Miami, FL native's ability to connect with people is legendary. He practices the Knowles Method to communication: Respect to Connect! This proven method transcends race, ethnicity, gender, age, and socioeconomics. 
Gil's keen leadership abilities were honed at his alma mater, Saint Augustine's College, Raleigh, NC, while serving as student representative to the board of trustees (junior and senior years) and president of the Student Government Association. In 1976, he simultaneously received a Bachelor of Arts degree (with honors) in History and Government and commissioned a second lieutenant in the U.S. Army. 
Gil's Respect to Connect method served him well throughout his military career; he was continuously lauded for his outstanding leadership and positive connections with the thousands of soldiers and families he served. He treated the private with the same respect he treated the generals. He served in Germany, Korea, Africa, Georgia, Indiana, Texas, Kansas, and North Carolina. In 1994, Dr. Prezell Robinson (then president, Saint Augustine's College) specifically requested the U.S. Army assign Colonel Knowles as Professor of Military Science, U.S. Army ROTC, Saint Augustine's College and Shaw University. The Army complied to his request by assigning Colonel Knowles (first Saint Augustine's alum to serve in this capacity) to Saint Augustine's College. His college sweetheart and wife, Carolyn Floyd Knowles, Miss Saint Augustine's College, 1976-77, also returned to her alma mater as an Assistant Professor of Business and later Director of Freshman Studies. During his tenure, Saint Augustine's ROTC program increased in size and vitality; Colonel Knowles was widely credited by his Army superiors in saving from closing the very program that produced him. He is honored on the ROTC program's Wall of Fame. 
Due to his proven leadership and great interactions with students as Professor of Military Science, Colonel Knowles, upon retirement from the U.S. Army, assumed the position of Dean of Students, Saint Augustine's College. His Respect to Connect method continued with his interactions with students. During his tenure, many student support program activities were altered for maximum benefit and communications with students markedly improved. His no-nonsense respectful and caring approach reaped great relationships with the students; many, many of these relationships have continued 20 years later. To quote a former student, "Dean Knowles would fuss me out about something I did wrong, however, would always call me Sir while doing it; he always kept it real…we loved this guy!" Gil's legendary "Get Off the Grass" shouts are part of Saint Aug's folklore 20 years later. His ability to give back to his alma mater during these years will always be treasured. 
Upon departing Saint Augustine's (1999), Gil assumed the position of Director, Division of Community and Education, United Negro College Fund Special Programs Corporation (UNCFSP). He effectively oversaw the management of minority student/faculty programs for Departments of 
Defense (Department of Defense Technical Assistance Program), Energy (Workforce Development Initiative & Minority Environmental Science programs), and Justice (Campus-Community Crime program & Project Stop Now campus violence program), NASA (NASA Administrator's Fellowship Program), the Corporation for National Community Service (Learn and Serve program), FINRA (Fat Pockets financial literacy program), and Liberty Life Insurance Corporation (Community Impact Program). He and his staff were afforded the opportunity to visit many Historically Black College and Universities, Hispanic Serving Institutions, and Tribal Colleges and Universities campuses throughout the nation. These programs positively affected thousands of minority students and their faculties. His Keeping it Real with Gil shows addressing maladies in minority communities in front of HBCU campus audiences were some of the most memorable highlights of his tenure at UNCFSP. 
Upon his departure from UNCFSP, Gil wrote a book, Help Them Pull Their Pants Up…How Mentors and Communities Can Empower Young African American Men and launched Knowles What To Do (KWTD) Mentoring Solutions. Through KWTD, Gil facilitated lively interactive sessions for HBCU male students at Concordia College (now defunct), Selma, AL; Tougaloo College, Tougaloo, MS; Livingstone College, Salisbury, NC; Clinton Junior College, Rock Hill, SC; Benedict College, Columbia, SC; and Philander Smith College, Little Rock, AR. He authored the Links to Substantive Mentoring Train the Trainer facilitation guide and video for the Links, Incorporated's National HBCU Initiative. He also served as Mentoring Activities Designer/Mentor for the Department of Education's Global Entrepreneurship Fellows. Although now retired, he is sought out to speak at Mentor functions, consult with mothers of single-parent households raising sons alone, and continues to offer guidance/advice to many young men. In many circles, Gil is known as the "Mentoring Guru" for young African American men. Video testimonials from some of his mentees: www.vimeo.com/knowleswhattodo 
Gil is a member of Alpha Phi Alpha Fraternity, Incorporated, life member, Saint Augustine's University Alumni Association, and deacon at the historic Alfred Street Baptist Church, Alexandria, VA. Gil and Carolyn (college sweetheart and wife of 42 years) have a daughter, Summer, an NBC TV local news anchor, Orlando, FL, son-in-love, LaVar Smith, and two beautiful granddaughters, Sade, and Sasha.